The Sculpture Rock Lathe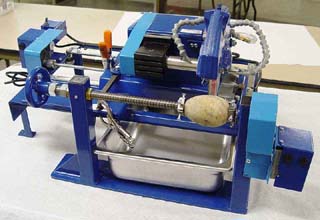 This rock lathe machine lets you preform rounded shapes in stone. You can preform eggs, candlesticks, vases, display bases, handles and spheres up to 8" long and 8" in diameter. The design is limited only by blade width and diameter of the tracer roller.

Blade and motor carriage is on a roller crossfeed powered by an independent gear motor and lead screw with a clutch. This complete assembly floats freely up and down on roller bearings as it follows the template of your design. The stone is held in place by the heavy duty clamp and is rotated into the blade by another independent gear motor. The complete machine is made from powder coated steel plate and has stainless steel rails. The blade is cooled by a recirculating pump feeding coolant from the pan through "Lockline" coolant tubes. These adjustable lines allow you to position the coolant flow where you need it. Flow is controlled by a valve.

Our Galaxy Carving Wheels can also be used on the sculpture so that you can easily finish grind and sand your workpiece. Overall size is 33 1/2" x 21". Weight is approx. 70 lbs. Must be crated for shipping.
640-34-1000
Ship wt 143 lbs
$2995.00
640-34-C
Crating fee
$195.00
640-925D
Replacement Blade
$157.00
640-925sh
Shipping
$114.00

Our 2009 Price $2895.00 plus and shipping